Potters Bar & District Scouts
DISTRICT  SUMMER CAMP 2020
Dates                  Fri 22nd Aug 2020  pm  to  Sun 30th Aug 2020 (9 nights)
Venue                 Lochearnhead Scout Station, Lochearnhead,
Central Scotland FK19 8NR
Cost                    £350.00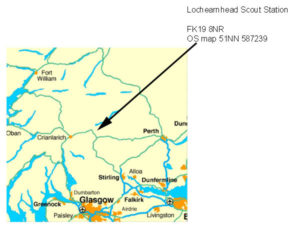 Following successful District Camps at Lochearnhead in 2010 and 2015  we are organising another District Camp at Hertfordshire Scouts Lochearnhead Scout Station in Central Scotland just north of Colander.
All Potters Bar & District Scouts, Explorers, Young Leaders, Leaders, Crew and Network members are welcome to join the Camp. This appplication form is for anyone below the age of 18 who would like to join the camp.
Lochearnhead is a converted railway station that is situated about 30 miles north of Stirling, which features bunk accommodation for up to 90 people and access to the finest walking country in Central Scotland. The views over Loch Earn give a tantalising glimpse of water based activities such as sailing, canoeing. Mountain biking along a national cycle route that follows the old railway lines and beyond, will be available. Quad Biking, Wild Camping will be organised. We will also be visiting a local Highland Games.
Lochearnhead Scout Station has already been booked and deposit paid. The transport will have to be booked by January 2020.  We will therefore require a deposit by Saturday 11th January 2020, and  a programme of easy payments to spread the cost will be issued later. Please note there are limited numbers for this trip and places will be issued on a 'First come first Served' basis, so book early!
Please complete the slip below and return to your Scout Leader, by Saturday 11th January 2020  with a deposit of £50.
Cheques payable to 'Potters Bar and District Scouts'
Chris Brunning
Assistant District Commissioner Tel: 07803 154046
Return by Sat 11th January 2020
I wish to attend District Summer Camp 2020 Lochearnhead Scotland and enclose a deposit of £50
Name__________________________________ Scout Troop___________________________-
Address______________________________________________________________________
Parent/Guardian_______________________________Tel:_____________________________