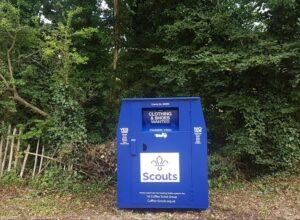 We've installed a Clothes Bank recycling facility in the grounds of our headquarters. 
Through this we are currently collecting donations of:
CLOTHES including HATS and TIES
GLOVES (in pairs)
TOWELS
SHEETS
BLANKETS
CURTAINS
SHOES (in pairs)
BELTS
… ALL OF WHICH SHOULD BE IN GOOD CONDITION AS THEY ARE BEING SOLD ON AND RECYCLED AS A FUNDRAISER.
Please do not include: clothing with school logos or work logos, footwear or accessories that show heavy signs of damage or stains; items that are originally sold as a pair such as footwear and gloves unless they are sent as a pair and carpet.
IF YOU HAVE PRE-LOVED BEAVER, CUB, SCOUT, EXPLORER OR LEADER UNIFORM ITEMS PLEASE WILL YOU HAND THESE TO ONE OF THE ATTENDING LEADERS OR EXECUTIVE COMMITTEE MEMBERS. This also applies to clothes embroidered with the 1st Cuffley Scout Group logo.

Donations to our Clothes Bank may be dropped off before or after any of our weekday section meetings. Many others access opportunities are available. To arrange an alternate drop-off time please text 07784 861218.
To make a cash donation to our Group please click this link.