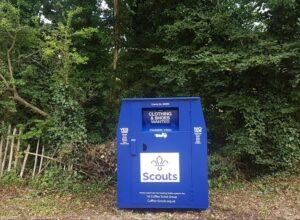 We've installed a Clothes Bank recycling facility in the grounds of our headquarters.
Through this we are now collecting donations of:
CLOTHES including HATS and TIES
GLOVES (in pairs)
TOWELS
SHEETS
BLANKETS
CURTAINS
SHOES (in pairs)
BELTS
… ALL OF WHICH SHOULD BE IN GOOD CONDITION AS THEY ARE BEING SOLD ON AND RECYCLED AS A FUNDRAISER.
Please do not include: clothing with school logo or work logos, footwear or accessories that show heavy signs of damage or stains; items that are originally sold as a pair such as footwear and gloves unless they are sent as a pair and carpet.
IF YOU HAVE PRE-LOVED BEAVER, CUB, SCOUT, EXPLORER OR LEADER UNIFORM ITEMS PLEASE WILL YOU HAND THESE TO ONE OF THE ATTENDING LEADERS OR EXECUTIVE COMMITTEE MEMBERS.

*To arrange an alternate drop-off time please text 07784 861218
To make a cash donation to our Group please click this link.